CNA Certification Classes in Stamford, CT
Interested in working with families and healthcare professionals, contributing to a clinical team in the care of elderly patients? Our Certified Nurse Assistant (CNA) Certificate Program will provide you with the knowledge, confidence and qualifications you need through a series of rigorous CNA classes. CompassCare Institute of Caregiving, LLC is committed to providing you with the most comprehensive nurse aide training available in Stamford, Darien, Fairfield County, or Greenwich, CT.
Our CNA certification courses will train you in procedures and protocols in caring for patients. When completed, you'll be CPR and First Aid certified, and our comprehensive nurse aide class segments will prepare you for the state licensure exam. Make sure you fulfill our CNA requirements for our CNA training! Our program covers: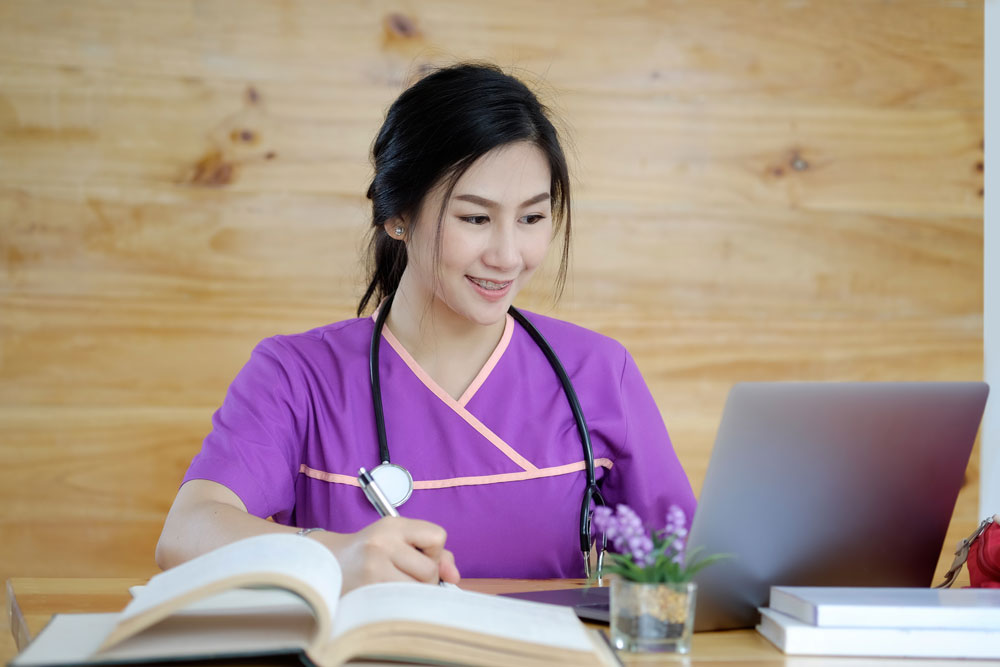 Initial Classroom Training
16 class hours
Communication and interpersonal skills
Infection control
Safety and emergency procedures
Promoting residents' independence
Respecting residents' rights
Basic Nursing Skills
8 class hours, 20 clinical hours
Taking and recording vital signs
Measuring and recording height and weight
Caring for the residents' environment
Caring for residents when death is imminent
Recognizing abnormal changes in body function and the importance of reporting such changes to a supervisor
Personal Care Skills
9 class hours, 26 clinical hours
Bathing
Grooming
Dressing
Toileting
Assisting with eating and hydration
Proper feeding techniques
Skin care
Transfer, positioning and turning
Mental Health and Social Service Needs
6 class hours, 4 clinical hours
Modifying aide's behavior in response to residents' behavior
Identifying developmental tasks associated with the aging process
How to respond to resident behavior
Allowing the resident to make personal choices, providing and reinforcing other behavior consistent with the resident's dignity
Using the resident's family as a source of emotional support
Identifying psychiatric disorders
Care of Cognitively Impaired Residents
11 class hours, 11 clinical hours
Techniques for addressing the unique needs and behaviors of individuals with dementia (Alzheimer's and others)
Communicating with cognitively impaired residents
Understanding the behavior of cognitively impaired residents
Appropriate responses to the behavior of cognitively impaired residents
Methods of reducing the effects of cognitive impairments
Caregiver issues encountered with dementia residents
Basic Restorative Services
2 class hours, 8 clinical hours
Training the resident in self‐care according to the resident's abilities
Use of assistive devices in transferring, ambulation, eating and dressing
Maintaining range of motion
Proper turning and positioning in bed and chair
Understanding the behavior of cognitively impaired residents
Care and use of prosthetic and orthotic devices
Resident Rights
2 class hours, 2 clinical hours
Providing privacy and maintenance of confidentiality
Promoting the residents' right to make personal choices to accommodate their needs
Giving assistance in resolving grievances and disputes
Providing needed assistance in getting to and participating in resident and family groups and other activities
Maintaining care and security of residents' personal possessions
Promoting the resident's right to be free from abuse, mistreatment and neglect, and the need to report any such instance to appropriate facility staff
Care and use of prosthetic and orthotic devices
Communicating Excellent Service
25 class hours
Align service delivery and values
Exceed resident expectations
Identify and respect residents' individual differences
Communicate a professional and respectful service attitude verbally
Communicate a professional service attitude nonverbally
Handling difficult service communication situations
Improve service by delighting your client with creative ideas
Improve service through caring communication
Understanding components of the listening process to provide excellent service
Respond in ways that demonstrate your service focus
Exceptional care begins with focus on the resident
Curriculum Designers
Our CNA refresher classes exceed state CNA requirements for licensing in Connecticut, including 79 hours of classwork and 71 clinical hours. All classes in the program were developed by lauded Cornell University professors with decades of tenure in the healthcare industry, in areas including gerontology, family health and many more.
Karl Pillemer, PhD
Karl is the Director of the CompassCare Institute of Caregiving, LLC and a Professor of Human Development at Cornell University. He also teaches Gerontology at Weill Cornell Medical College. Karl is an internationally renowned gerontologist and a published author. Karl has his Bachelor's, Master's and Doctorate Degrees of Sociology from Boston University & Brandeis University
Judi Brownell
Judi is the Associate Director of the CompassCare Institute of Caregiving, LLC and a Professor of Organizational Communication in the School of Hotel Administration at Cornell University Johnson College of Business, as well as a Faculty Fellow in the Cornell Institute for Healthy Futures. Judi has her Bachelor's Degree from Ithaca College, Master's Degree from State University of New York College at Cortland and her Doctorate Degree from Syracuse University.
Rhoda Meador, PhD
Rhoda is the Associate Director of the CompassCare Institute of Caregiving, LLC and the former Director of the Ithaca College Gerontology Institute. She is an accomplished expert in adult learning and gerontology. She is a nationally recognized author, researcher and administrator. Rhoda has her Master's Degree in adult learning from Marshall University and a Doctorate Degree in Consumer and Family Sciences from Iowa State University.
Get the Skills for Success as a CNA
The CCIC curriculum of CNA refresher courses was designed to raise the standard for excellence among new CNAs. From the classroom to the field, the concepts we teach carry over into the success of your career and a superior level of patient care. To learn more, please contact us today at 203-951-1189.